Accommodation: Villa Vujovic Apartments "APARTMAN 2"
Tivat, Montenegro
category
category
category
category
Number of views: 5471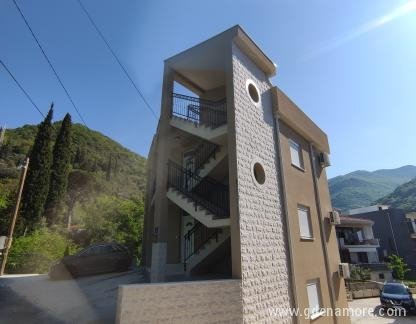 Contact Person:

Slobodan Vujović

Address:

Donja Lastva Gornja Ruljina 16

City: Tivat, Montenegro
Phone:

+38267335695 / +38267232603

Cell Phone:

+38267335695 / +38267232603
Contact owner
Show map
Owner speaks languages:Serbian, English
Apartment:
Room:
Studio:
Whole object
The apartment is fully equipped with all the necessary contents, and is located in a building that was built and completed in 2022. The building is located in a quiet part of Tivat, separated from the hustle and bustle of the city, surrounded by peace and greenery, and it seems to be made for vacation. the city can be reached by easy 15-minute walk, and everything is within reach and accessible. The nearest beaches are about 800 meters away, including the popular Waikiki and Ponta Seljanovo. And the famous Porto Montenegro marina is also close by. Distance from the international airport Tivat is 4 km away and can be reached by car in 15 minutes.
The building contains 3 apartments, with the same square footage and layout, but with a different design.
The square footage of Apartment No. '2' of Villa Vujovic is 48 m2, it has a separate bedroom with a French bed, and in the living room there is a pull-out sofa that can be converted into a comfortable bed for two.
From the living room and the bedroom, there is an exit to the terrace of 5 m2, which has its own furniture.
The apartment is equipped with high-speed internet, smart TV, complete bathroom, complete kitchen (machine for dishes, refrigerator with freezer, toaster oven and oven), and has a secured parking space.
Legend:
All rooms, apparments
Some rooms, apartments
No
Capacity:

3 individualna apartmana

Seaview:
Water 24h:
Bathroom:
Kitchen:
Room service:
Safe box:
Large terrace:
Balcony:
Air conditioning:
TV:
Cable TV:
Internet:
Telephone in the room:
Parking:
Garage:
Pool:
Suitable for children:
Pets allowed
Suitable for disabled people:
Characteristics of accommodation
Legend:
All rooms, apparments
Some rooms, apartments
No
Capacity:

3 individualna apartmana

Seaview:
Water 24h:
Bathroom:
Kitchen:
Room service:
Safe box:
Large terrace:
Balcony:
Air conditioning:
TV:
Cable TV:
Internet:
Telephone in the room:
Parking:
Garage:
Pool:
Suitable for children:
Pets allowed
From the center:

1.7 km

From the beach:

700 m

From bus station:

2 km

From airport:

3 km
From ambulance:

1.5 km

From restaurant:

1.5 km

From sports fields:

1.5 km
Prices and payment options
Payment options:
Cache:
By bank transfer:
Credit cards:
In Pre-season
In high-season
In post-season:
Out of season:
Updated: 01/13/2023
Powered by GdeNaMore.com